The Pillars of the Earth
by Ken Follett
I was recommended
The Pillars of the Earth
by a colleague at work. It was quite a good read except for the more graphic portions that I thought it would be better without. We were chatting about books we read and she began to tell me the story of this book she had read not too long ago. She brought the book to work and I began reading how Follett came to study research on the building of cathedrals and the subsequent writing of this book many years later. His own story of his writing captivated me and I went to Borders and got a copy of it for myself. It is a story that spans 30-40 years in the 12th century involving several major characters beginning with the story of Tom Builder whose dream was to become a master builder of a cathedral.
I finished reading the book in 4 days. I was practically buried in it. I also bought a copy of its sequel,
World Without End
, but it was at that point of time that I got to know about
Kobo
e-books and began searching for another good novel on cathedrals in a similar period of time.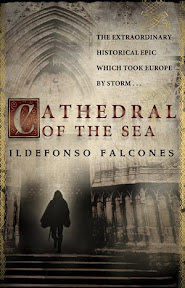 Cathedral of the Sea
by Ildefonso Falcones
I googled it and found this title:
Cathedral of the Sea
.
I just finished reading this book a moment ago, which is almost 800 pages long in print form. I started reading it in e-book format on May 12. It took me 16 days to finish it. I was enjoying it so much I decided to take my time and it is not bad considering that I also completed another e-book, non-fiction within that period of time:
Introvert Power
by Laurie Helgoe.
I prefer
Cathedral of the Sea
to
The Pillars of the Earth
. The story was more intact around the same few people giving them a fuller and rounder character in the book. Whilst Follett had to introduce newer characters to draw the story to a close, Falcones accomplished it more satisfactorily. His story is about a young man, Arnau Estanyol, who began working as a
bastaix
or stone carrier for the building of cathedral.
Bastaixos
were respected people - carrying big boulders of stones is hard work and without them, cathedrals can never be built.
I love the characters Falcones carved out in this book. And he writes well, with the skill of the interpreter as well, as the book is originally published in Spanish. I did feel like I was transported to its 14th century scenes of intrigue and relationships.
It has been awhile since I have read a good novel, and having read two in a month is good for me. I had enjoyed it tremendously. I am searching now for my next read, and if possible, more medieval times stories.
pearlie